Teams fume over referee inconsistencies, Jaydn Su'A sin-binning​
When it comes to 50-50 calls, it seems the NRL strugglers never get the rub of the green.​
No wonder battling NRL clubs don't think they get a fair go. A week after
coach of Gold Coast, Justin Holbrook
took aim at the NRL for the Titans not getting an even crack when it comes to the 50/50 calls, it was well and truly exposed at Kogarah again on Friday night. And St George Illawarra has every right to be filthy. Privately, the Dragons have been told over the weekend that they were on the wrong side of several crucial calls during their 20-16 loss to the premiers.
And the first half sin binning of
Jaydn Su'A
wasn't the only contentious call that went against them. The Dragons were also told
Zac Lomax
should not have been sin binned when he took a player off the ball because it was not a genuine try scoring situation. While if Ben Hunt would have stayed down after late contact he could have also milked a sin binning. Throw in the fact the Panthers got three set restarts but the Dragons just one, when it was clear to all watching the game the Panthers were getting away with blue murder at the ruck.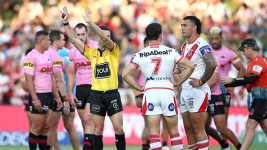 But let's go back to the Su'a sin binning because that is a call that was ultimately match defining. The hit on Panthers playmaker Sean O'Sullivan was not late. It was not even high.
And it should not have been a penalty, let alone a sin bin. Yet
because O'Sullivan stayed down
Su'A was marched. It was a disgraceful call. Su'A had no way he could have pulled out of that tackle. And that is not just me saying it but almost everyone who was watching the game, including Fox Sports' experts Gorden Tallis and Benji Marshall.
Marshall even revealed how the producers at Fox broke down the timing from the moment O'Sullivan passed the ball to when Su'A hit him. It was literally 1/6th of a second. When Su'A was sin binned the scores were 6-all. When he returned the Panthers led 20-6. But to rub salt into the Dragons' wounds O'Sullivan was allowed to return to the game. After what had happened to Victor Radley and other players in round one it makes a mockery of the new concussion protocols.
The NRL had sent a memo to all clubs before the season kicked off stating that under the revised rules involving independent doctors a player would be classified as a category one (meaning he could not return) if he stayed down after contact and could not get up. Which is exactly what happened with O'Sullivan.
---
That's nice if the NRL has acknowledged we were robbed by the ref. After acknowledging the NRLW team was robbed last week. But we want to see action. That *+`#$% needs to be dropped to the NSW Cup for at least a month and then only considered if another ref is screwing up.
Last edited: